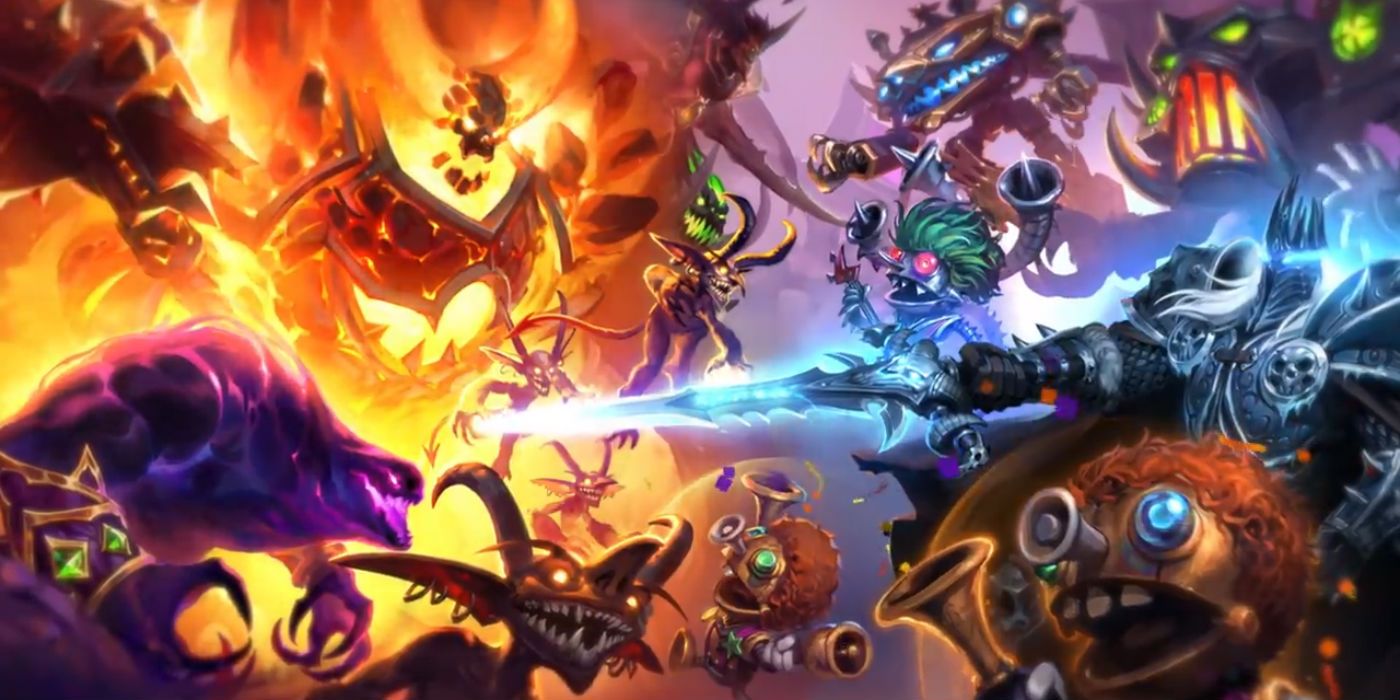 Among the big reveals at this year's BlizzCon, one of the most surprising was the announcement of Hearthstone Battlegrounds, Blizzard's entry into the trendy auto battler genre. Announced during BlizzCon's opening ceremony, Hearthstone Battlegrounds will compete with popular games like Teamfight Tactics and Dota Underlords while bringing some interesting twists to the formula.
Hearthstone Battlegrounds had plenty of company at the BlizzCon opening ceremony, sharing space with several high-profile game reveals. Among other announcements, Blizzard showed off long-awaited sequels and expansions for some of its most popular series: Diablo, Overwatch, and World of Warcraft. Both Overwatch 2 and Diablo 4 got fairly detailed gameplay trailers showing off some of the ways the games will build on their predecessors' success. The next expansion for Blizzard's long-running MMORPG, World of Warcraft: Shadowlands, got a cinematic trailer and hints of some interesting gameplay changes, including the ability for players to choose between several factions to support. Among such major announcements, Hearthstone Battlegrounds may not have been the star of the show, but it did have the advantage of not being spoiled before BlizzCon even started.
Related: Blizzard Loses Esports Sponsor Over Hong Kong Controversy
Blizzard's new auto battler shouldn't be hard to pick up on for fans of the genre, but it will play differently from anything else out there in important ways. Hearthstone Battlegrounds maintains a lot of the card game it grew out of, judging by the Blizzard's explanation of the game. Players in its eight-person matches will choose a hero with powers that stay in effect for the game's duration, then spend coin building armies from a selection of minions. Unlike other auto battlers, Hearthstone Battlegrounds has minions attack in an orderly fashion and doesn't let players save coins from round to round, significantly changing up the strategies available. Players who want to see for themselves how it works won't have to wait long; BlizzCon attendees, virtual ticket holders, and anyone who buys the 'Descent of Dragons' Hearthstone expansion, can join the Hearthstone Battlegrounds beta starting November 5. When that ends on November 12, the game will enter open beta, which anyone can join.
Hearthstone Battlegrounds' association with Blizzard's popular card game gives it some name recognition, but that name may also be a liability at the moment. Blizzard as a whole is facing fallout from its punishment of Hearthstone player blitzchung after he spoke out in support of Hong Kong independence, and that dark cloud could easily extend over the launch of Hearthstone Battlegrounds. The situation certainly wasn't helped by Blizzard president J. Allen Brack's non-apology for the incident during BlizzCon's opening ceremony.
Controversy and competition aside, Blizzard and Hearthstone are still names that carry a lot of weight. This year's BlizzCon saw Hearthstone player VKLiooon become the first woman ever to win a major Hearthstone championship. While that achievement shows that Hearthstone is popular as ever and may give the game a more positive image in players' minds, it won't overshadow Blizzard's handling of blitzchung, or the people still protesting the controversial decision.
Next: Overwatch 2 Announced at BlizzCon 2019, Adds New Multiplayer Game Mode
Source: Blizzard Entertainment